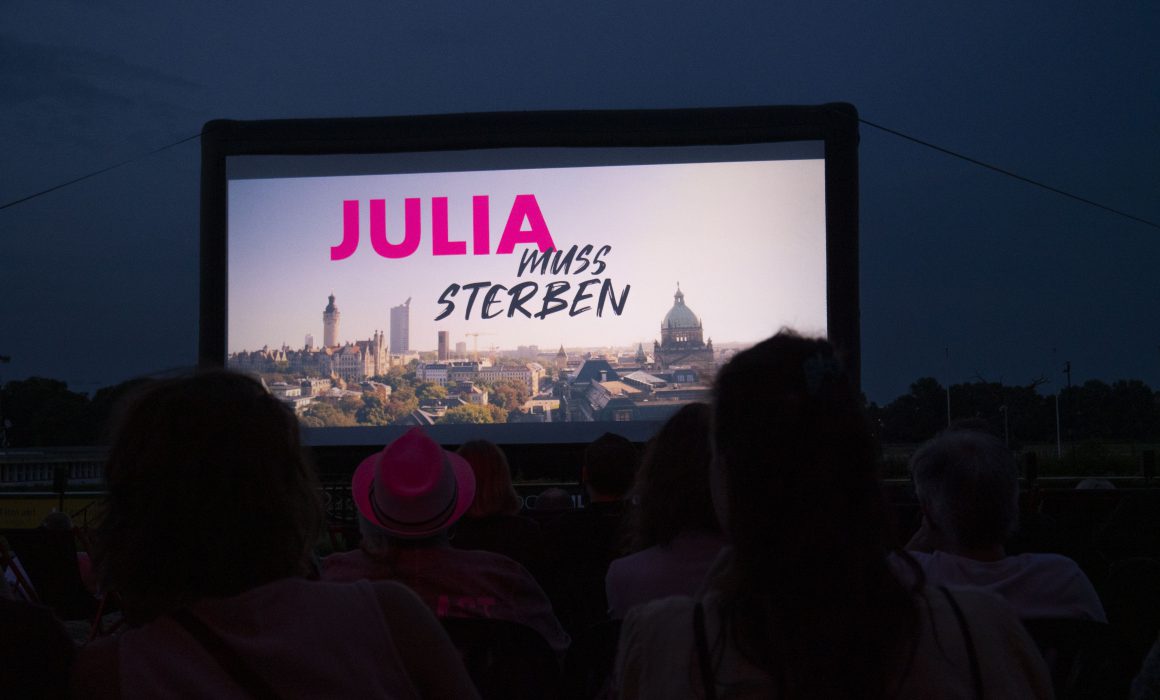 Our production Julia must die will celebrate its Leipzig premiere at the summer cinema at the Scheibenholz racecourse next Saturday, 24 July 2021.
After a long delay due to the Corona pandemic, the 90-minute feature film Julia must die by director Marco Gadge will finally celebrate its cinema premiere in Leipzig. The film nights at the Scheibenholz racecourse provide the perfect setting to ring in the cinema launch together with the film cast and team. Officially comes Julia must die will also be released in cinemas nationwide from 29 July. A premiere in the Saxon city was particularly close to the filmmakers' hearts, as the tragicomedy was shot entirely in Leipzig in the summer of 2019 and a large part of the team comes from the region. Many of the film's actors* such as Sabrina Amali, Stephan Grossmann, Thilo Prothmann and Michel Diercks will also be present at the premiere. The event starts at 9 pm. Tickets for the screening on Saturday are available here and also on site at the box office.
The plot
The plot revolves around Lya, who stirs sleeping pills into her father's morning tea in order to secretly take the acting exam. And all because Lya thinks that eight years of caring for her father is enough of a tribute to her Iraqi family. Of course the plan blows up, but her two new friends Clara and Kasper accompany Lya through the chaotic day at drama school. The film is funded by the Mitteldeutsche Medienförderung and the Sächsische Landesanstalt für privaten Rundfunk und neue Medien. We were also supported by Saarländischer Rundfunk and Ludwig Kameraverleih.
Upcoming cinema releases
from 29.07. Tilsiter Lichtspiele, Berlin
from 29.07. Kamino, Reutlingn
29.07. & 30.07. Luru, Leipzig
01.08. Moritzhof, Magdeburg
07.08. Open Air Cinema, Großhabersdorf
26.08. to 29.08. Burg Theatre, Burg
Further dates will follow in Weimar, Aachen, Dresden, Dortmund and Cologne.
Additional information and news about the feature film can be found as usual at www.juliamusssterben.de as well as on Instagram and Facebook can be followed. What else is new from IN ONE MEDIA, we publish in the usual way via our News Section and our Facebook page!