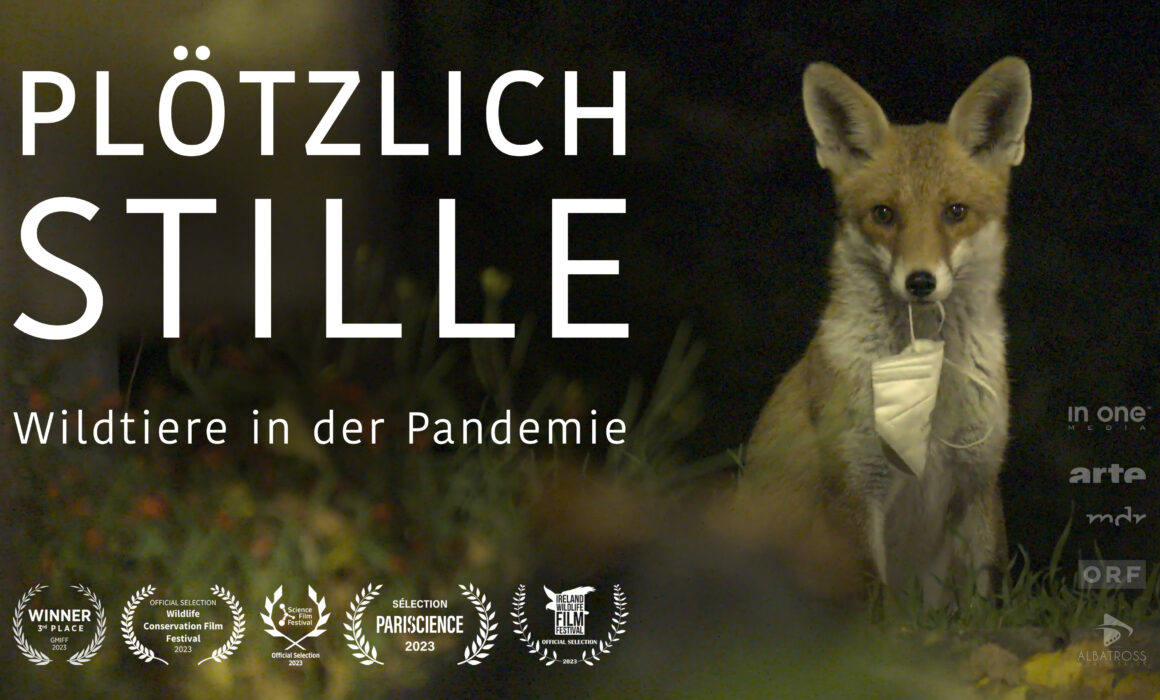 For our production "Suddenly Silent - Wildlife in the Pandemic" by author Susanne Maria Krauß more and more festival commitments are trickling in. And the documentary has already won a prize! On October 3, the film will be broadcast again on TV!
Already in the past weeks there were the first festival commitments for Sudden silence  - a documentary on scientific research on the effects of lockdowns during the Corona pandemic on wildlife worldwide.
The festivals
At Green Montenegro International Film Festival was Sudden silence can already be seen in July 2023 and promptly climbed to 3rd place on the winners' podium at its festival premiere. This was now followed by festival commitments for the Wildlife Conservation Film Festival in New York (19 - 29.10.2023), the Pariscience International Science Film Festival in Paris (26 to 30.10.2023), the international Science Film Festival (with screenings in Malaysia, Namibia and Singapore), and recently for the Ireland Wildlife Film Festival, which will take place online (Oct. 10-20, 2023).
The film
April 2020: COVID19 forces people around the globe to restrict their freedom of movement. Suddenly, people were much less ubiquitous than usual. Suddenly, silence reigned. How did wildlife respond to this unique break from humans? Although the COVID19 pandemic led to a tragic global crisis, it also presented an extraordinary opportunity to study the impact of our human actions on wildlife. It's an experiment unlike anything that has ever been done before. With impressive footage, the film accompanies scientists* in their exciting project to study the behavior of different animal species during the so-called "anthropause". The results show a complex picture of the necessity and chances for a better coexistence of humans and animals on our common planet.
Outlook
The entire team is very pleased with the great interest in our documentary. The importance of research during the lockdowns goes beyond the Corona pandemic and provides revealing insights for the future coexistence of humans and animals on Earth. Species extinction, displacement, and habitat loss are commonplace for wildlife. Humans are increasingly encroaching on the natural habitats of wildlife. Ways and means must be found for humans and animals to live side by side or even together. It is therefore all the more important that Sudden silence reach an international, interested audience through festivals and inform them about the research results.
New broadcast date
For those who cannot be present at the festivals, our production is available via the media libraries of ARTE and ARD available online. Also comes Sudden silence at October 3 at 1:35 pm in the MDR . As always, we publish further news and festival announcements via our News Section on Facebook or Instagram.